Enter the SweetSassyDiva Design Team Call!
Click here
for details!
Welcome to the Disney Pixar Blog Hop! If you arrived here first, the beginning is at Crafty Chics Blog.
If you arrived from Creative Cutter, you are at the right place!
Here is a precious sweet girl to greet you and welcome you to SweetSassyDiva blog!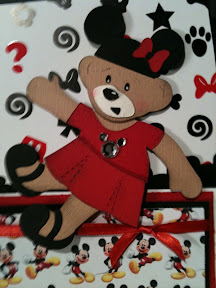 I would love to thank Shawn for inviting me to participate in the Disney Pixar Blog Hop! I am so excited that there is a chance for a lucky follower to win one of some amazing prizes!
There will be a GRAND PRIZE of a Gypsy being given away. Just find the two "Hidden Mickey" blogs in the hop, one from each day, to enter to win a Gypsy donated by Marlo of Scrap N Tote! I hear she is also donating a scrap'n tote!
She is also a maker of the Scrap'n Easel! You can see the video that I made with the scrap'n easel on the right hand side of my blog. She has made some amazing products.
For more information and current sales offers on the scrap'n tote and scrap'n easel, click on the picture of them below. They are having a sale and you can get the details and special codes by clicking the picture below. Be sure to check it out today because she has some special Blog Hop pricing.
Which color of the scrap'n tote or scrap'n easel do you like best? Did you click the picture above to see the wonderful colors as well as the newest added?
Haven't the projects just been amazing so far? There are a lot of great surprises and more to come.
Now, on to my project! I made a 2 page scrapbook layout of course Disney! I used the Disney Cricut Cartridges Mickey Font and Mickey and Friends!
Page 1
Page 2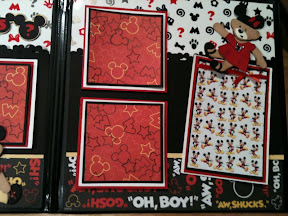 I used the Sizzix Build a bear die. To cut out this cute bear, I snipped the bear to make it moveable. I also cut an additional bear head to pop it up adding dimension.
His shoes are tied with some DMC Embroidery Floss. And he has special reinstones to create a Mickey head logo for his shirt. I think the added dimension of popping up his legs and head add to his character. His ears were cut from the cricut cartridges.
I welded the words on the gypsy and cut it out in 3 layers.
I used a zig two way pen to glue the pieces together. It helps to use the thin pen and not to add too much or it will ooze out the sides. Did you see the welded mat above with the ears? I welded all of that in the gypsy an it cuts as one piece.
I added dimension by using pop dots on the "Ears?" to make it stand out.
Is there any question as to how much dimension and interest it adds? I also inked the edges to add some pop!
The cute Mickey ears were cut on the gypsy and sized to fit. Did you catch the bow on the first bear?
Here you can see the entire layout.
Be sure to check out
Jamie Lane Designs!
next as well as leave some comments on all the blogs for your chance to win some fabulous prizes. Also, please become a follower of my blog by clicking the follow button on the right side bar. In addition, you can sign up for emails too but, please do both so, you don't miss anything.
Here is the blog line up in case you get lost or need to come back to the line up later.
Shawn
Beginning!
Diane
http://www.capadiadesign.com/
Susan
http://www.cricutforbeginners.com/
Tami
http://www.scrappinrabbitdesigns.blogspot.com/
Kristal
http://www.gettingcricky.com/
Jessica
http://thecreativestamperspot.blogspot.com/
Kaye
http://www.yesterdaystomorrow2011.blogspot.com/
Cathie
Bobbi Jo
http://sweetsassydiva-gspot.blogspot.com/
YOU ARE HERE!
Jamie
NEXT
Kim
http://uscrap2.blogspot.com/
Melissa
http://www.disneydreamerdesigns.blogspot.com/
I hope you enjoyed my scrapbook layout and please now on to
Jamie
NEXT
And be sure to check the hop from yesterday when you finish today's hop to find the other wonderful blog candy. You also need to find the two micky icons for a chance to win a Gypsy!
Posted from my iPhone