Welcome Day Two of the SweetSassyDiva Birthday Blog Hop!
We are celebrating Bobbi Jo's (SweetSassyDiva) birthday this weekend yesterday, March 10th, and today, March 11th. Each day will be a new project and be sure to check out the yummy blog candy giveaways!
I am so happy that you could join us for this super fun Blog Hop show casing Birthday Themed fun!
You will find an array of ideas along the hop and be sure to become a follower and leave some love aka comments along the way.
This is a TWO-Day hop so, be sure to catch both days for maximum celebration and ideas. You can see the first day in yesterday's post.
As we spring forward with the time change as well as with Spring coming so soon...let's get this party started! Hop on over to all the blogs along the way!
We have a WONDERFUL Grand Prize for one lucky hopper that is donated by Bobbi Jo (
http://sweetsassydiva.com/
)!
The cricut cartridge Sophie. There is only one Sophie cartridge. Be sure to enter for the drawing for the Sophie cartridge.
To be eligible, please visit each blog hop stop leaving a comment also, become a follower at
http://sweetsassydiva.com/
and be sure to leave a comment!
One random winner will be chosen on Wednesday, March 14th, giving you plenty of time to finish the hop.
I created a birthday card using the ctmh art philosophy cricut cartridge bundle. For the paper, I used my refections: dreamin' and solid chocolate.
I am using my Cricut Expression 2 Anniversary Edition for this project but, you could use any cricut or Imagine for this project.
I started with Page 60 and cut tag4 layer only...
5.25" and select the Aa button as shown below. This will make it precisely 5.25".
Page 60 cut gift box and layer in two sizes (2.25" and 3.25").
The coordinating stamp set can be used on the 2.25" cut.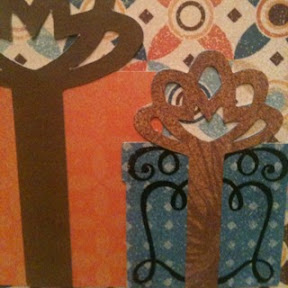 For the sentiment, I cut page 56 shape4 and layer at 1.25"
Using the "Happy Birthday!" stamp in the bundle, I used versamark and heat embossed in black.
I chose my denim twine from the Twinery to further embellish the card.
All of this on a beautiful green card base.
Thank you for checking out my project. I hope that you will become a follower of
http://sweetsassydiva.com/
and leave a comment. The fun doesn't end here though so be sure to hop on over to Lucy
http://love2createitall.blogspot.com/
and remember to visit all the stops for more chances to win!
Thank you for celebrating my birthday this weekend.
Here is the complete list in case you get of track:
Bobbi Jo
http://sweetsassydiva.com/
; YOU ARE HERE!
Lucy
http://love2createitall.blogspot.com/
Michele
http://www.michelegreen.com/
Gaby
http://www.gabycreates.com/
Mindy
http://grammiescraftroom.blogspot.com/
Lori
http://scrappinmystressaway.blogspot.com/
Missie
http://createdbymissie.blogspot.com/
Jennifer
http://scrapaholicjen.blogspot.com/
Paulette
http://scrapalette.blogspot.com/
Anita
http://www.anitaandbugs.blogspot.com/
Brenda
http://happyscrapper64.blogspot.com/
Dana
http://papermemories4u.blogspot.com/
Maria
http://stampcutcreate.blogspot.com/
Cori
http://createdbycori.blogspot.com/
Michele
http://chelescrafts.blogspot.com/
Sandy
http://thecraftycreationspot.blogspot.com/
Jenny
http://crazyaboutcricut.blogspot.com/
Suzanne
http://cricutcraftingrammy.blogspot.com/
Brenda
http://www.friendscraftinwithfriends.blogspot.com/
Shawnee
http://quiverofangels.blogspot.com/
Sylvia
www.bellascrapbookdesigns.blogspot.com/