For the Design Team challenge this week at SweetSassy Diva we were asked
to use a cartridge that started with the letter of our name. I chose
Sesame Street Seasons for two reasons. One I hadn't used it yet and two I
knew it would have Summer cuts for a fun layout. The patterned paper
I used was a huge stack I bough a couple of years ago when I first got my E from
Me and Big Ideas.
I first cut out all the characters I wanted to use. All
the cut sizes are below the pictures. I then took cardstock and tore
it across Fiskars edge and embossed it with a Cuttlebug folder. I did
this in pieces and overlapped using the embossed and deembossed sides to give
different texture.
Next I laid out the vellum I got at the local LSS. It is called Beach Fun
by American Traditional Designs. I then punches out an edge in yellow
polka dot paper with a wide MS punch and glued all these pieces down.
Next, I got out my chalk, Smooch ink, and Stickles I thought I might use.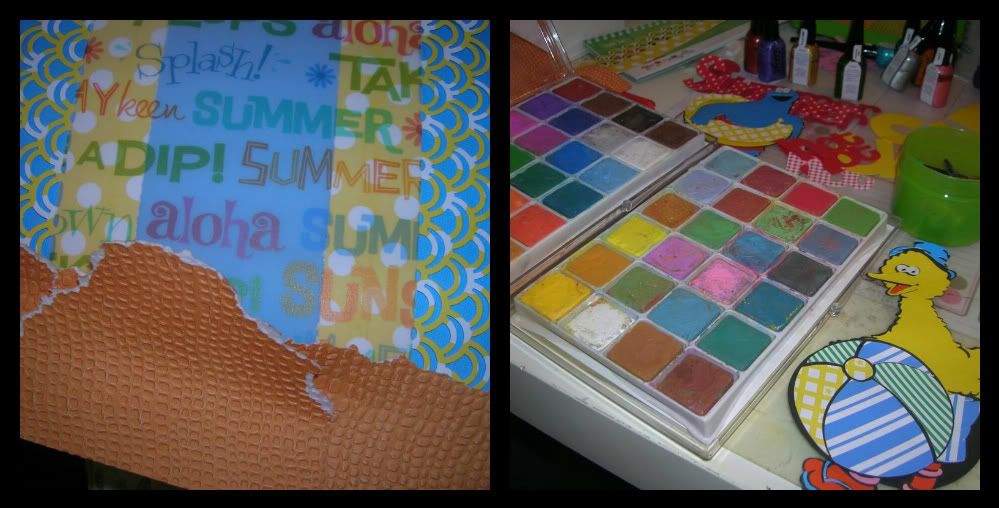 Here is the close up of Ernie and the Cookie Monster. If you look closely,
you can see how I chalk around cuts, used Stickles and Smooch Ink. I love
how using Smooch Ink gave the characters the look of fur, etc.
For the cookie monster, I pop dotted the inner tube. I didn't like the way
his paws looked so I cut them out with an exacto knife to pull them out over
tube. I also used googly eyes for all the characters and even the
little duck Ernie is holding.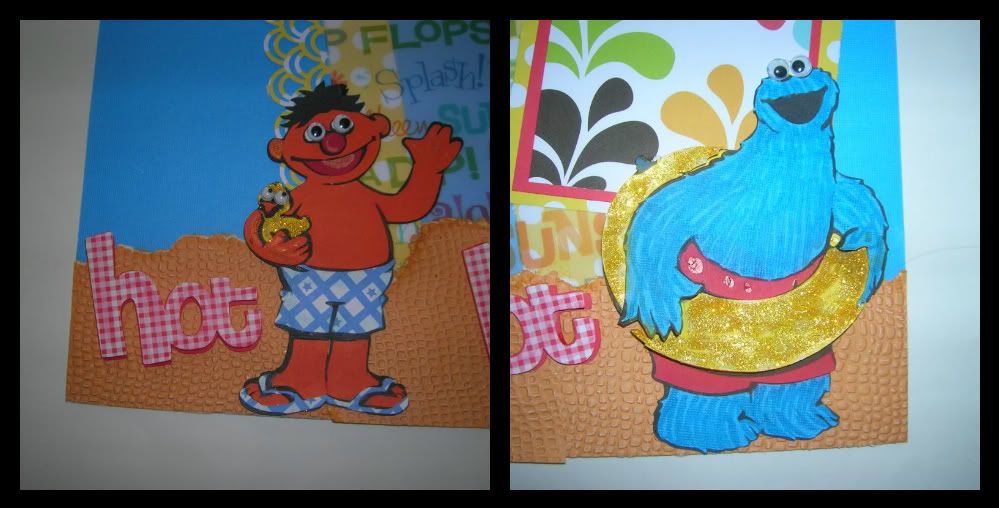 In addition, for Elmo I used plastic from one of my cart boxes to give it the
look of a real snorkel mask.
I cut out the beach ball for Big Bird to hold, trimmed around his wings to make
it look more like he was holding the ball.
Each word is cut out one time in pattern paper and two times in plain
cardstock. I then pop dotted the words on two layers. I also
used chalk on the edges of words. The last thing I did was fill the
center of the sun with buttons. I have seen this on projects in magazines
and always thought it was cool so I thought this was a great project for this
idea.
Cut sizes:
Big Bird 7 ", the other characters 5 ", Summer word 1.75 ", Sun word 3.5
", hot word 2 " ball 3 ". Sun 5 ".
Hope you liked this project and tutorial. Let me know if you have any
questions and wishing you all a wonderful fun filled Summer.