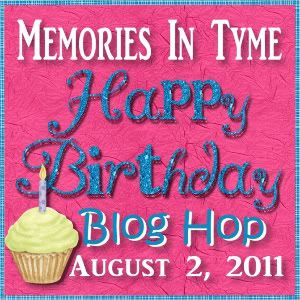 Thank you so much for coming to this Birthday Blog Hop!!! It's Lynda's birthday today...and her sisters in 10 days from today...so today is all about birthday related stuff! If you started at my blog, please go back to the beginning at Lynda's blog at
http://memoriesintyme.blogspot.com/
to be able to see all of the great talent on this hop.
Happy Birthday Lynda! And I am enjoying being part of this blog hop to help you celebrate! All the festivities begin at 6 am!
I thought that I would show you how to make a beautiful gift that you could make for someone special.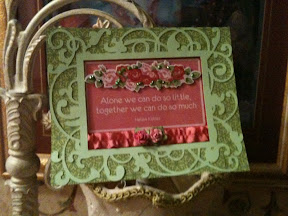 It would make a wonderful birthday gift. It is great for altering the plain wooden frames found in the craft stores or use your cricut to make a cardboard frame. In fact, the Cricut cartridge Fancy Frames has some options such as an Easel or stand.
I was inspired by the Kaisercraft paper Miss Nelly Collection. I saw this at the Chicago Summer CHA 2011 show just a few weeks ago.
I used the papers in the line called "Her Habits", sticker sheet and "Her Dreams".
I just love the quote by Helen Keller!
It needed a proper frame so, I grabbed the new Cricut cartridge Fancy Frames.
So many choices but, I needed a rectangle and tipped it to the side.
I chose the "Frame2" and base.
For the intricate cut, I chose a coordinating green cardstock and the base was cut using "Her Dreams". I cut it on my Cricut Imagine at 7.2" as seen below.
I chose the cut only option so, you could cut it on any of the various Cricut machines.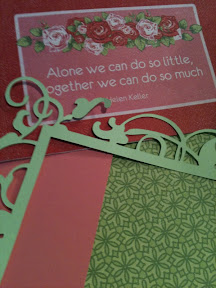 I layered the pieces and adhered the intricate mat over the shadow feature using a Zig 2 way glue fine ball point pen.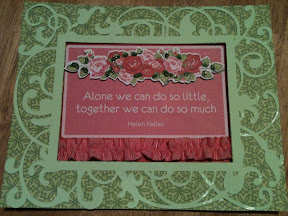 Using the sticker piece, I used pop dots to give added dimension to the flowers.
I also used Lime Green stickles by Ranger.
The ribbon and mulberry paper mini roses were glued on to give some more texture.
Again, here is the finished Fancy Frame.
So, the line up for today amazing! I'm sure if you started from the beginning you would agree! Wait until you see the last few!
http://sweetsassydiva.com/
You are here!
Thank you for being a part of this fun hop, and celebrating Lynda's birthday with us! I hope you have enjoyed it as much as we had in making it! Make sure you check back this whole week - as we will be having even more birthday related stuff posted all week from Lynda, Anita and Barbara! I hope you check back often! There just might be another prize for the comments from 8/3 to 8/5!!!
Also, you can view projects on
http://sweetsassydiva.com
each day. Each week there is a new challenge!
Your next stop is: Crafy Homemade -
http://craftyhomemade.blogspot.com/
Order your CTMH Cricut Art Philosophy cart today! Click here!
or you can email me at
sweetsassydiva@aol.com
The item number is Z1686. You can also get the stamp of the month for $5 more and a few other goodies depending on your order date. You can comment on this post or email me for more details.
You can view more details and a video on the new cartridge....
Click Here!
Now for the best part... the
blog candy
... One lucky winner will get a $10 Visa gift card to use at any store of your choice. To be eligible...you must
1. Be a follower of each of the people on the blog hop.
2. Leave a comment for each of the blogs on the hop.
That is it, very simple! Winner will be chosen from the comments made!
Be sure to check back for the next Blog Hop!