Today the sweetsassydiva Design Team was asked to create a project with the new Close to my Heart Art Philosophy cricut cart. I have been having a blast with this new cart and the stamps that go with it. In my opinion it is the best cart PC has ever done and CTMH has just made it better with the stamps that go with it. Be sure to check out
my blog
for more great projects.
Now on to my project for today. This is a quick layout I did with the Art Philosophy bundle.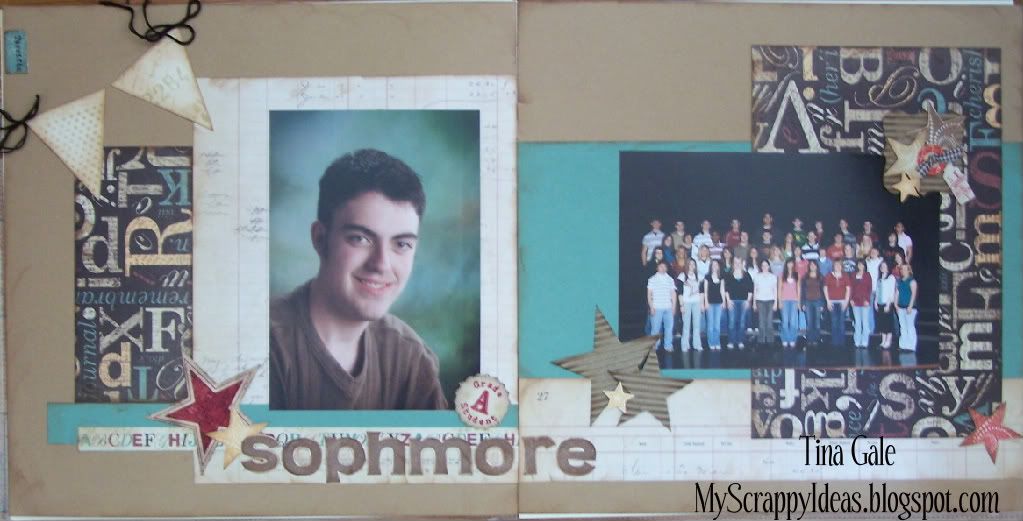 This is my son's sophmore pic and class picture from several years ago. This paper pack and stamp set is perfect for school pics and many more subjects.
Here's the left side of the layout.
The banner is cut from the AP cart and then stamped with the Vintage Type stamp set. I added ome black embroidery thread bows to finish it off.
The red star is from the Typeset Complements. They're fabulous printed canvas stickers. I'm so in love! The yellow star is stamped from the Love Life stamp set.

The Grade A is another canvas sticker from the Complements package. The title was stamped and hand cut from the Alphabet stamp set.

CTMH also has the fabulous Milepost shapes that are corugated cardboard cut to shapes that you can find on the AP cart as well if you want to layer them. You get a large bag of 48 shapes. Here I just inked them and layered more stamped stars and washers from the Vintage Type stamp set.
I hope you enjoyed my layout today and come visit me at
my blog
for more great projects.
Hugz
Tina Gale
If you would like to order the cricut cartridge or this stamp set, please send an email to Click
Here!
and I will send you an invite to my CTMH party.