Happy Halloween to all you Sweet Sassy Diva blog followers. In just two
weeks it will be Trick or Treat day. I love seeing all the little kids
dressed up in their costumes. For the Design Team Challenge this week we
were asked to make a Halloween treat goody bag or gift of some kind. Well
here is my treat box. I love making these boxes and have made them for all
sorts of occasions. They are perfect to fit with candy or other goodies.
I often fill them with goodies from the $1 bins or stores.
So here is the finished product.
You start out with a 12 x 12 piece of good cardstock.
You then score or fold at 4 inches and 8 inches both ways so you end up with 9
squares. Make good creases with a bone folder or ruler and then open up.
Next score each corner at a diagonal to the center square corners. See
picture. Make a good crease on these corners. First I fold them out
and then in so they have good crease.
Next you cut 18 square at 3.75 x 3.75. I used scraps from other Halloween
projects but you can also use paper and make a pattern. It's up to
you.
Five of the squares you will glue to squares on one side. Four squares you
will cut diagonally in 1/2 to do corners. keep paper from overlapping fold
lines.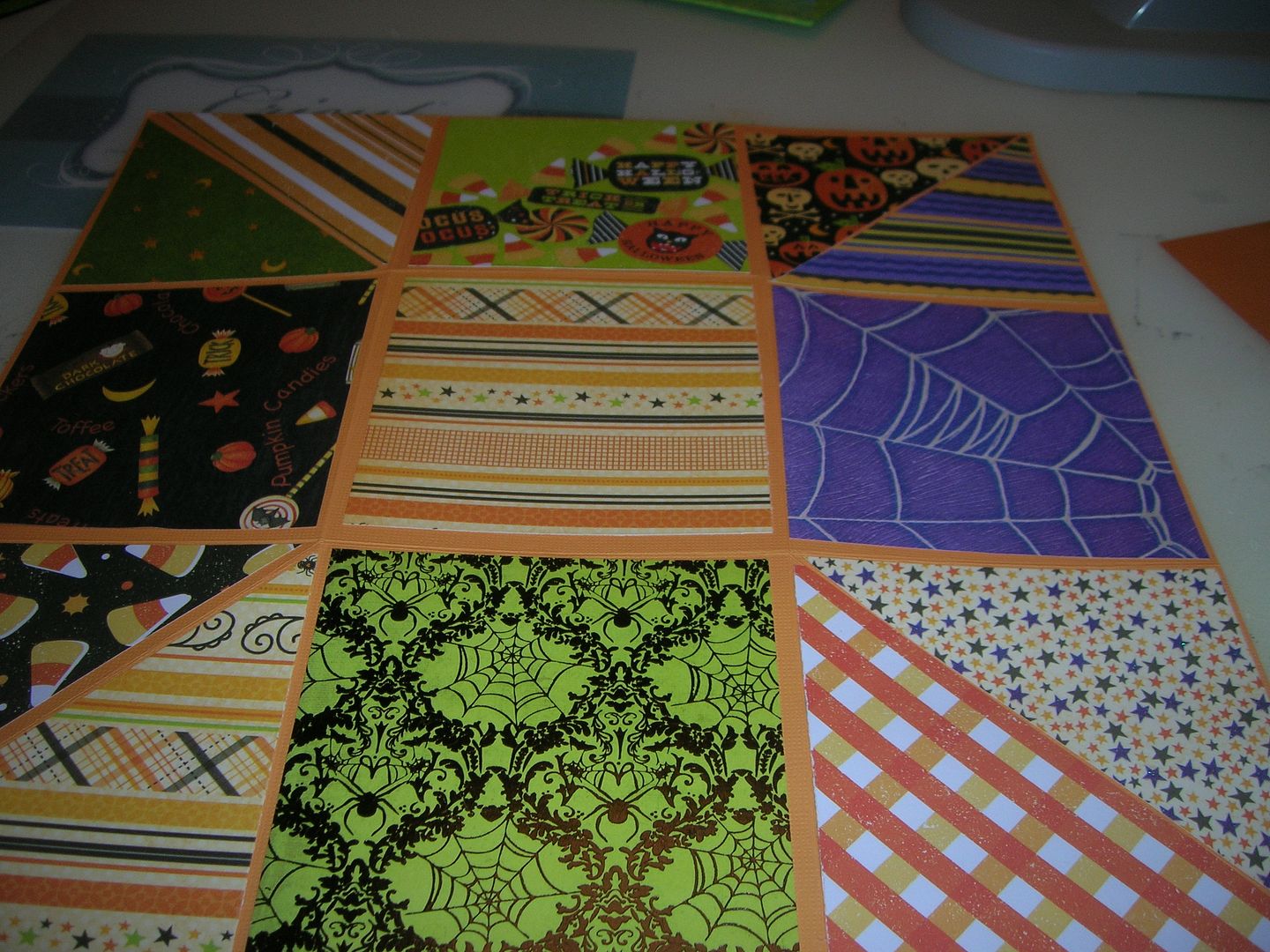 Turn over and do the same on the other side.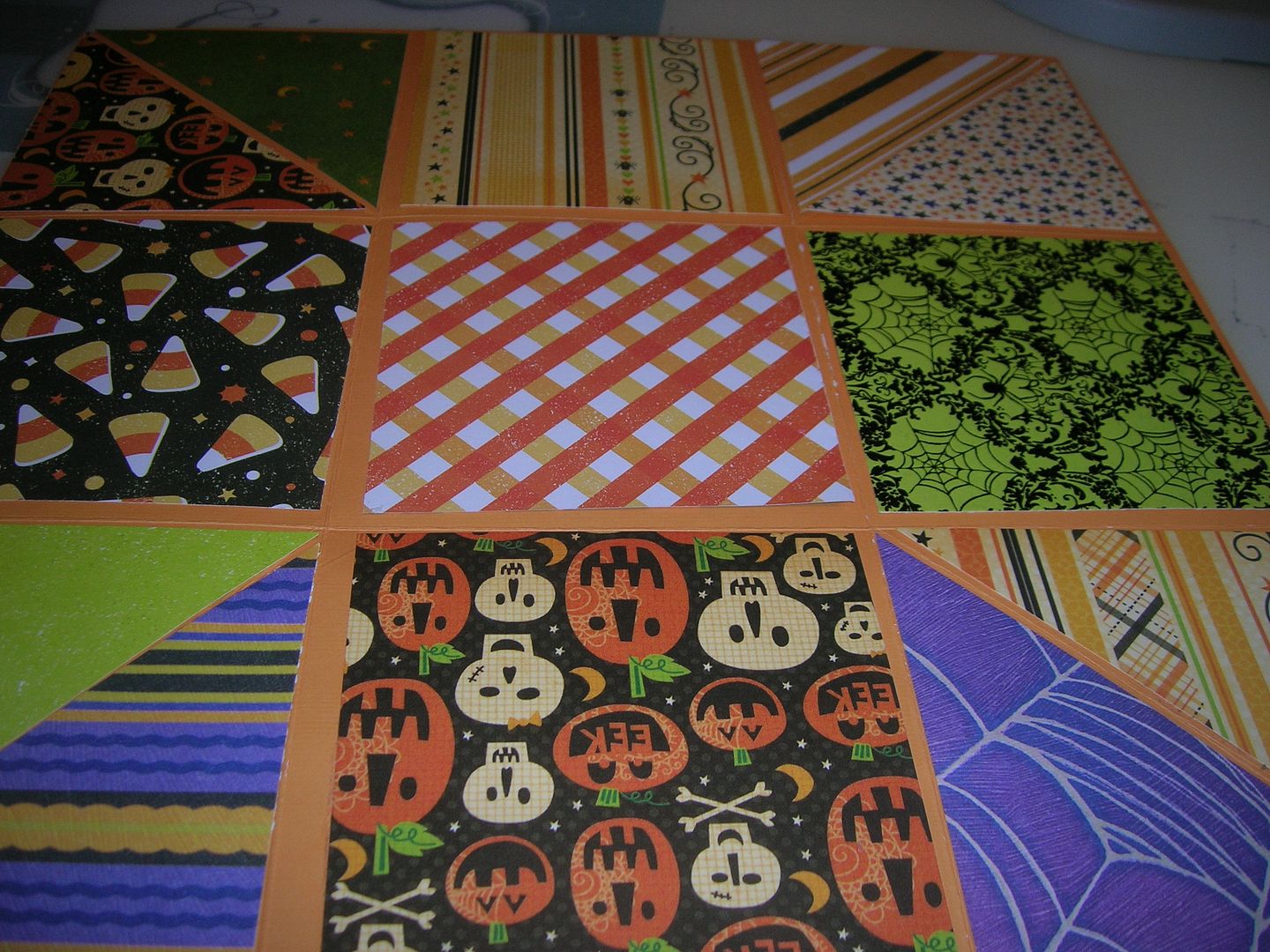 Now you are ready to punch a hole at each corner. Do not punch to close to
edge as it will tear. I used my Crop a dile but you can also use a regular
punch.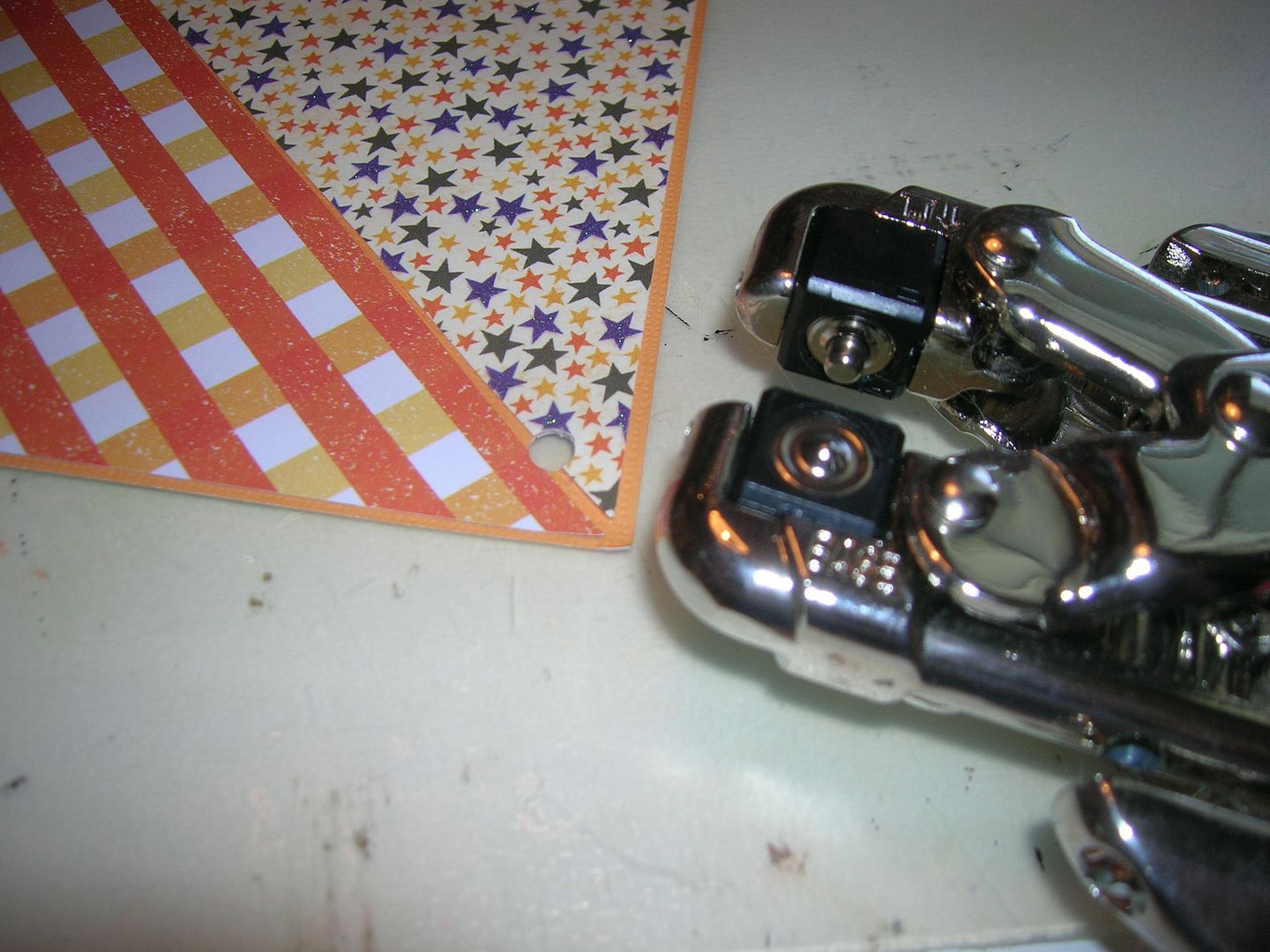 You are now ready to decorate the side if you wish with die cuts, ribbon, etc.
I used a pumpkin from Pumpkin Carvings cut at 3 inches. The witch
2.75, the ghost 3 inches and the spider 3 inches were cut from Happy Hauntings.
I also used some trim to decorate around the edges. Make sure you
put trim on outside top and face diecuts down towards center square.
For this next step take thin ribbon and thread through the holes and tie.
I leave about 3 inches between each hole when I pull it together.
Tie a knot and trim.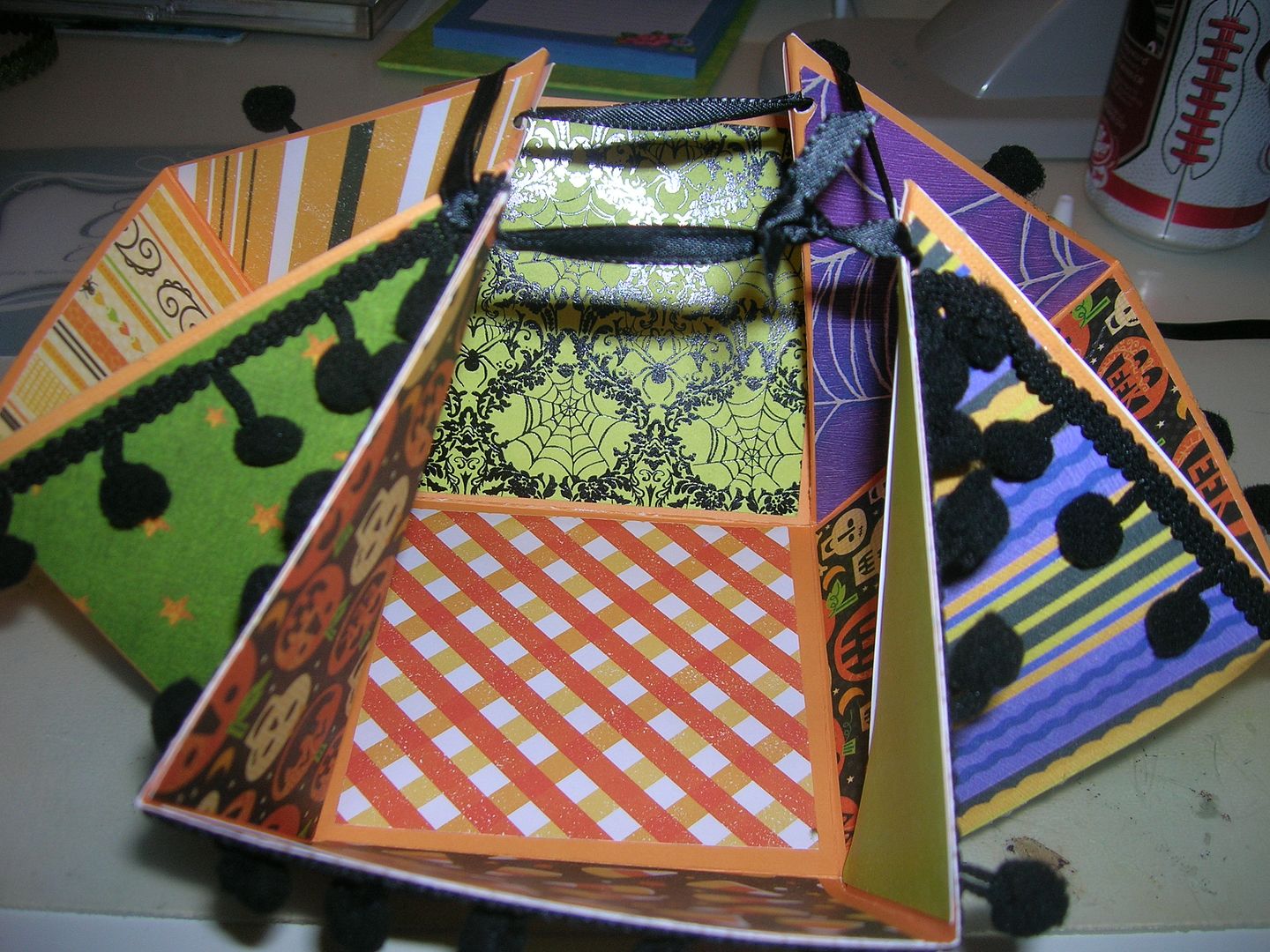 Here are the four sides of the box.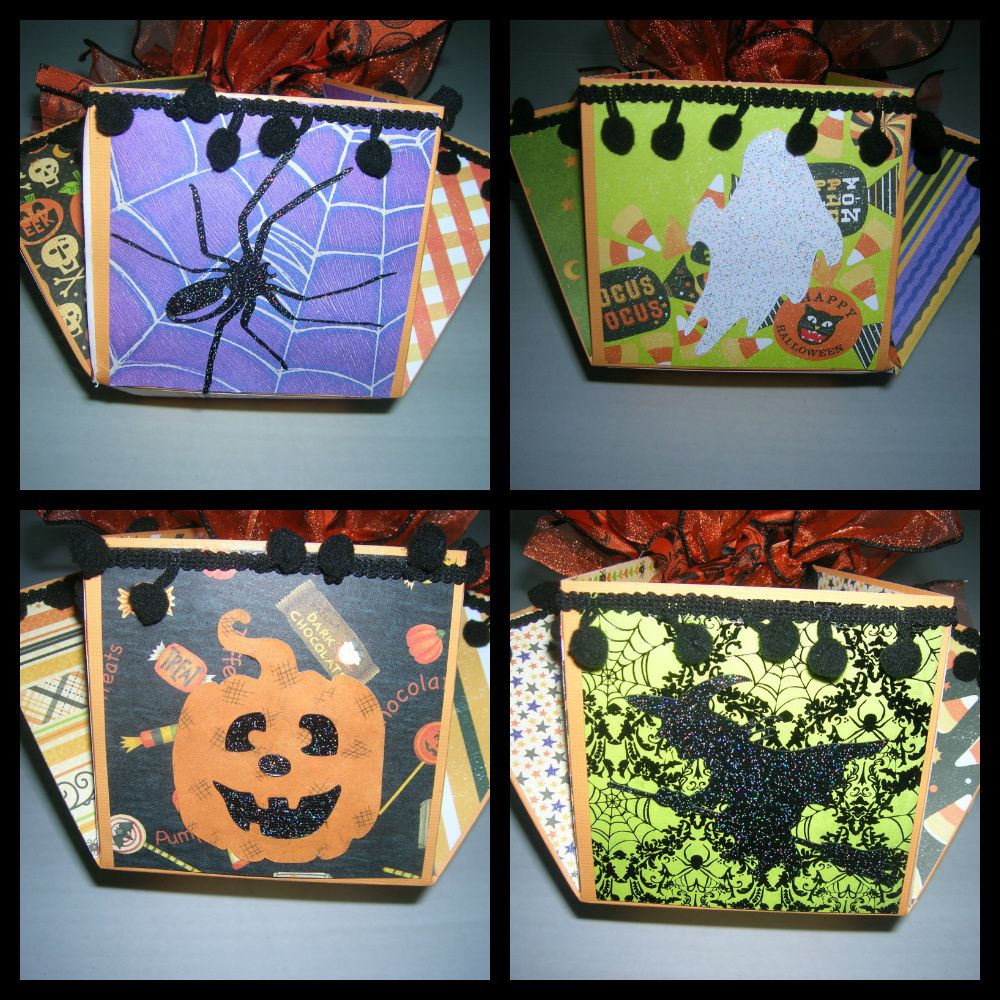 The last step is to add ribbon. Wired ribbon works the best but I have
used regular ribbon. I cut each piece to 9 inches and tied a single knot.
There are three pieces on each
- Suzanne
What is your favorite Halloween candy?
side. If you use wired ribbon you can then fluff it up. The wired
ribbon I used is from the Dollar Tree.
Now you are ready to fill your box with treats, candy or whatever you wish.
Hope you enjoyed my post and tutorial. Please come back this week to see
what other great treats the Design Team comes up with. Also please stop by
My blog
to
see my other projects. I love followers and comments. Happy
Halloween