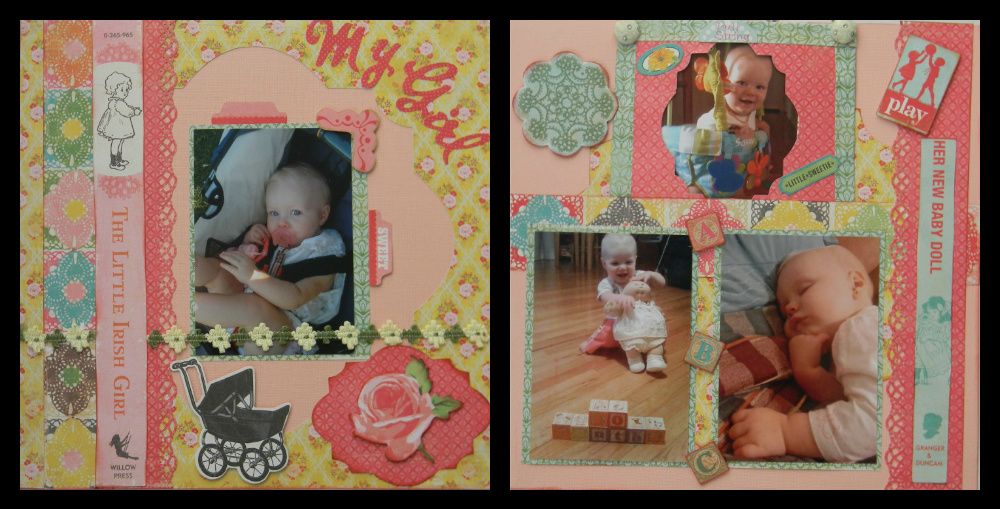 This week at Sweet Sassy Diva the challenge is to create either a layout with hidden journaling (inside a pocket, flap or envelope) or a card with a hidden sentiment. I always have a ton of pictures of granddaughters and never enough room. I decided to make a two page layout with hidden photos. Although you see 4 photos on these two pages, there are actually 11. Now one of the problems with interactive pages is always what to do when you use plastic sheet covers. Well the trick is since the sheet covers open at the top you need to make your interaction at the top so it will slide in and out without having to remove the sheet. The paper I used for this two page layout I recently bought at my first trip to Hobby Lobby. It is a Crate Paper kit called Emma's Shoppe. I love the vintage feel. I loved the strip that said "The Little Irish Girl" since I am Irish. To start my layout I layout pics and move them around.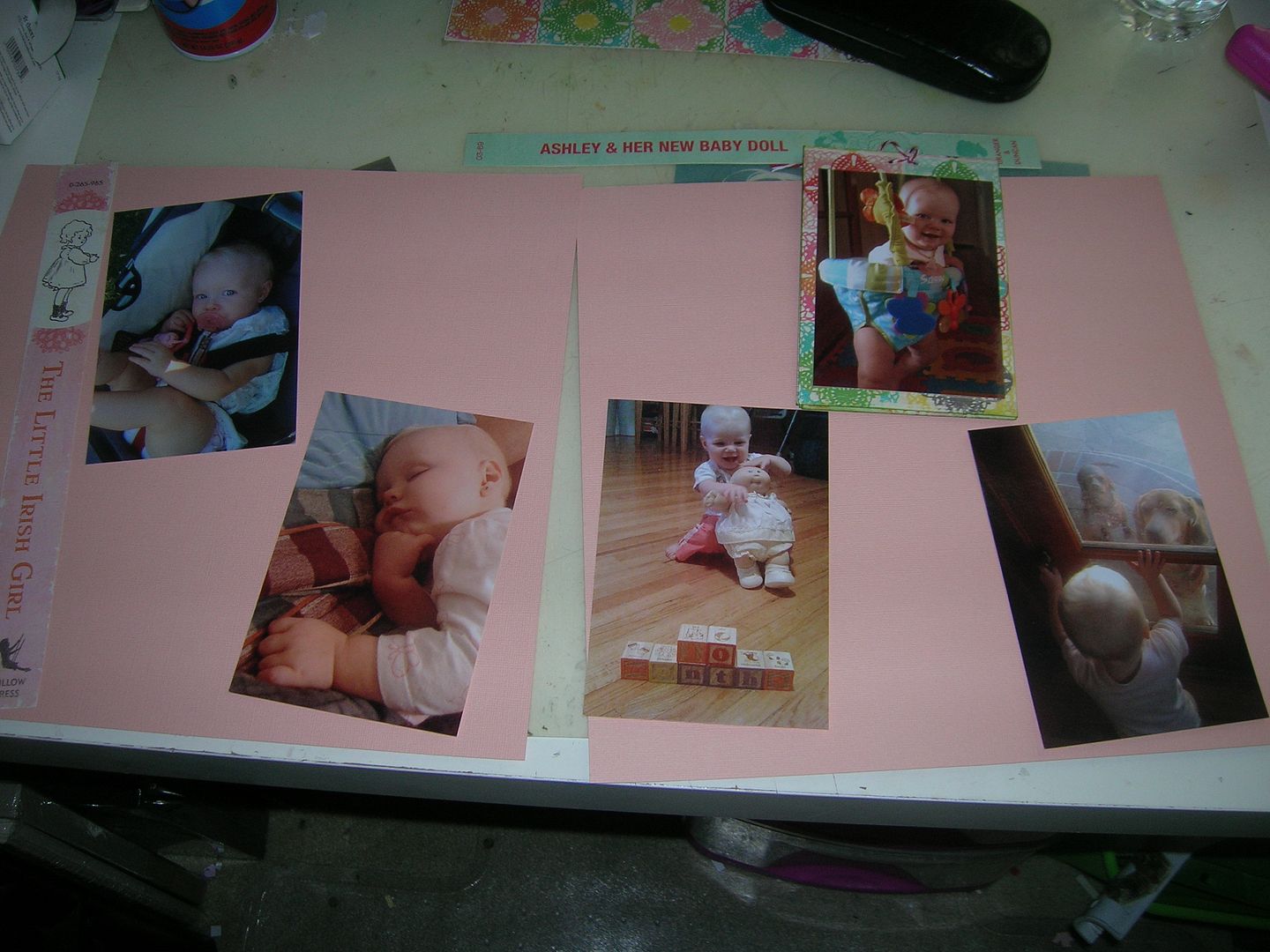 I look at papers I might use and lay them out. I knew the paper with medallions would be great to use in strips some how.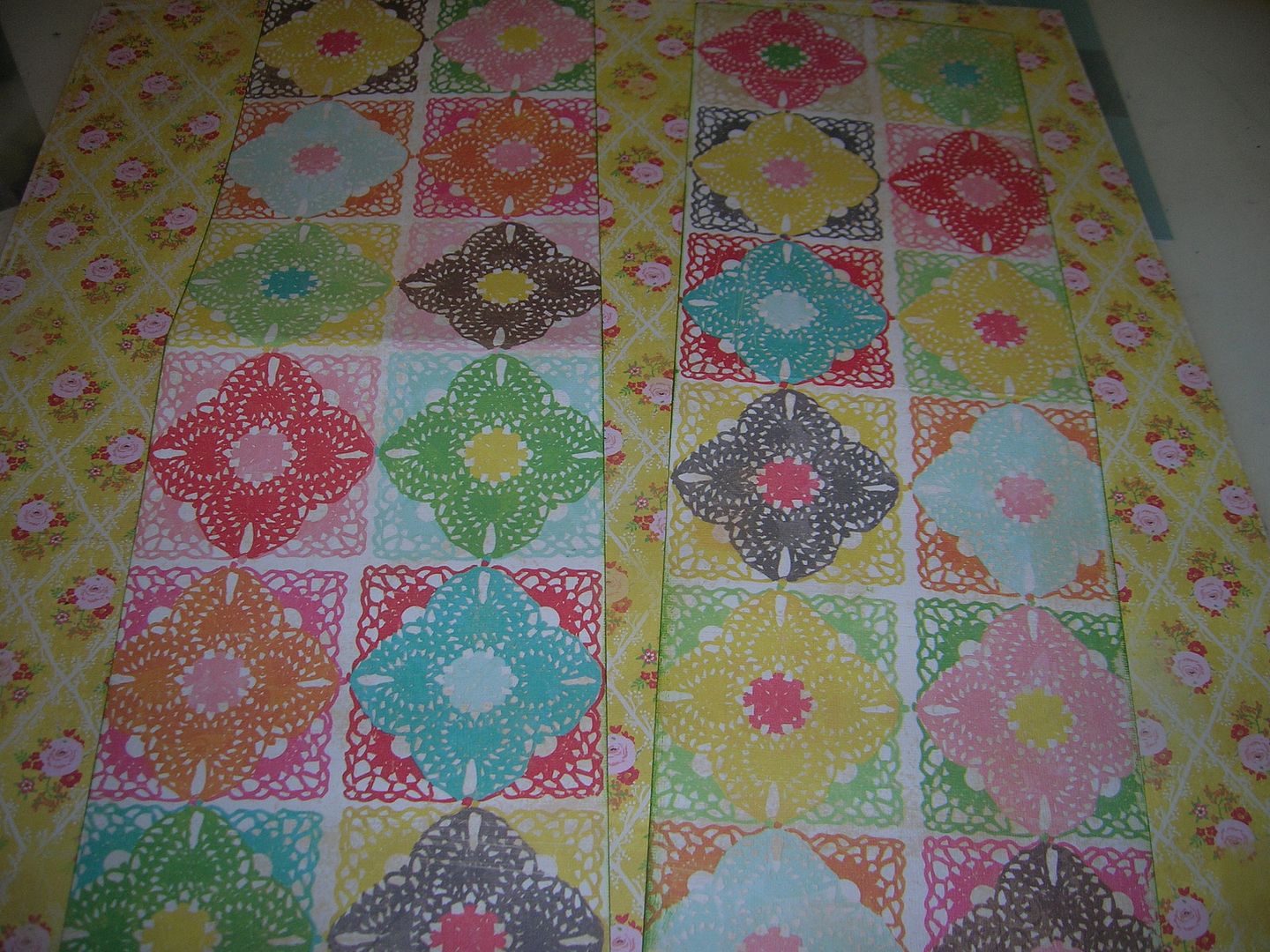 I used my Gypsy and Elegant Edges. This shape reminded me of the design in the paper above.
I cut the shape from page 70 at 10 inches in the exact center of the paper.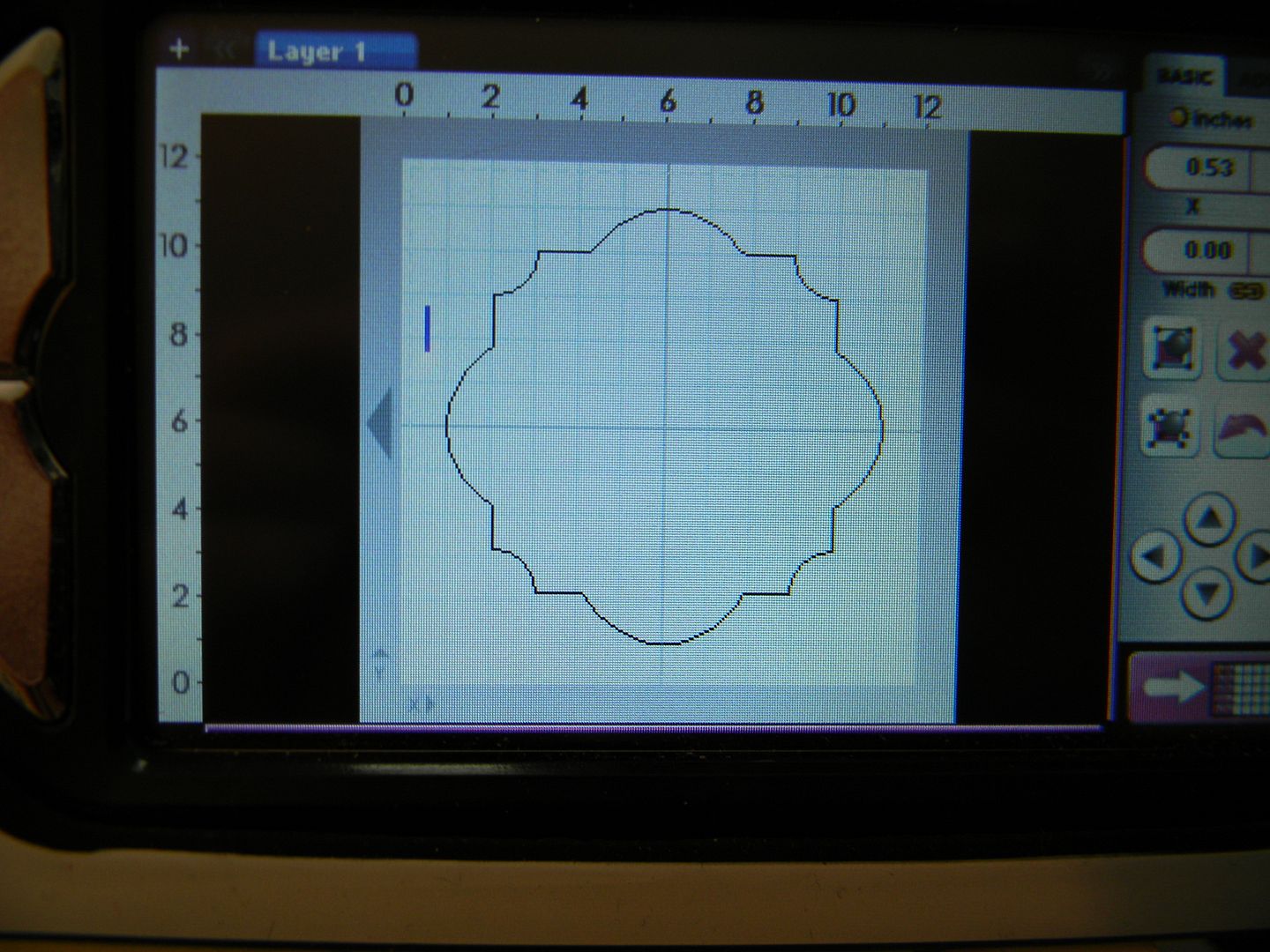 I now have two pieces to use. The outside frame and the inside shape.
Now I am ready to make a pocket for my hidden pictures. I used a 6 x 6 piece of scrap paper to try my cut. I used the Gypsy and the same shape cut at 4.5 x 3.67, After checking how the picture peeks out I moved the shape up a little.
I cut 3/4 inch strips to reinforce my pocket on three edges.
Folding strip in 1/2 and gluing down on both sides. Here is the back side.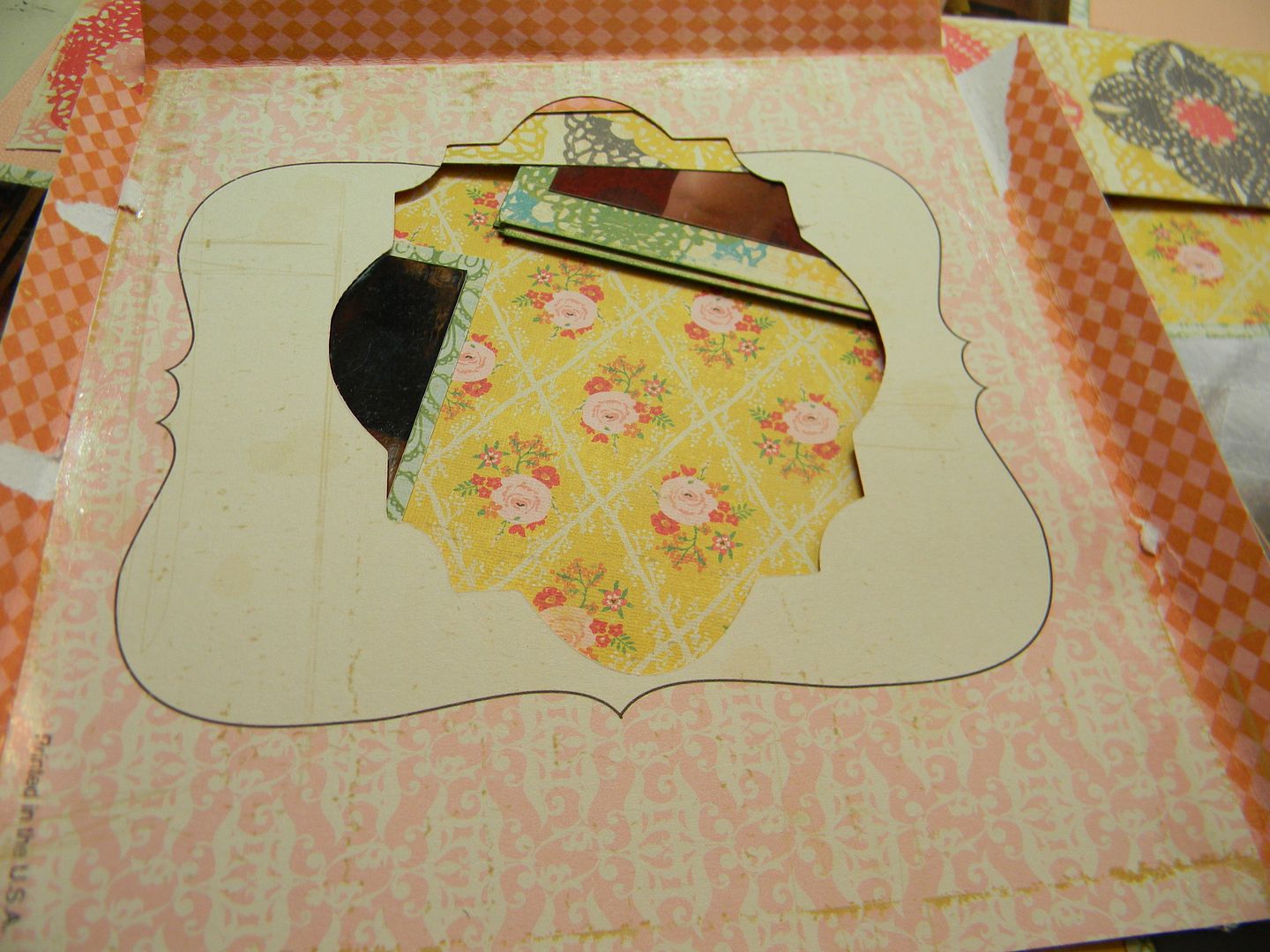 Here is the front side.
Now what goes inside the pocket. A little 4 x 6 book made from two pieces of
4 x 12 and folded them in 1/2. I then punched two holes with my Crop A Dile and
strung with twine for a pull tab. I then added 8 pictures.
The pocket has two large decorative brads at the top and two small ones at the bottom.
I then placed a 4 inch strip of the medallion paper across the bottom to reinforce the bottom.
See the twine to pull the little book out? Also I added a little tag at the top that says Pull String.
I added some of the embellishments from the sticker and chipboard pages.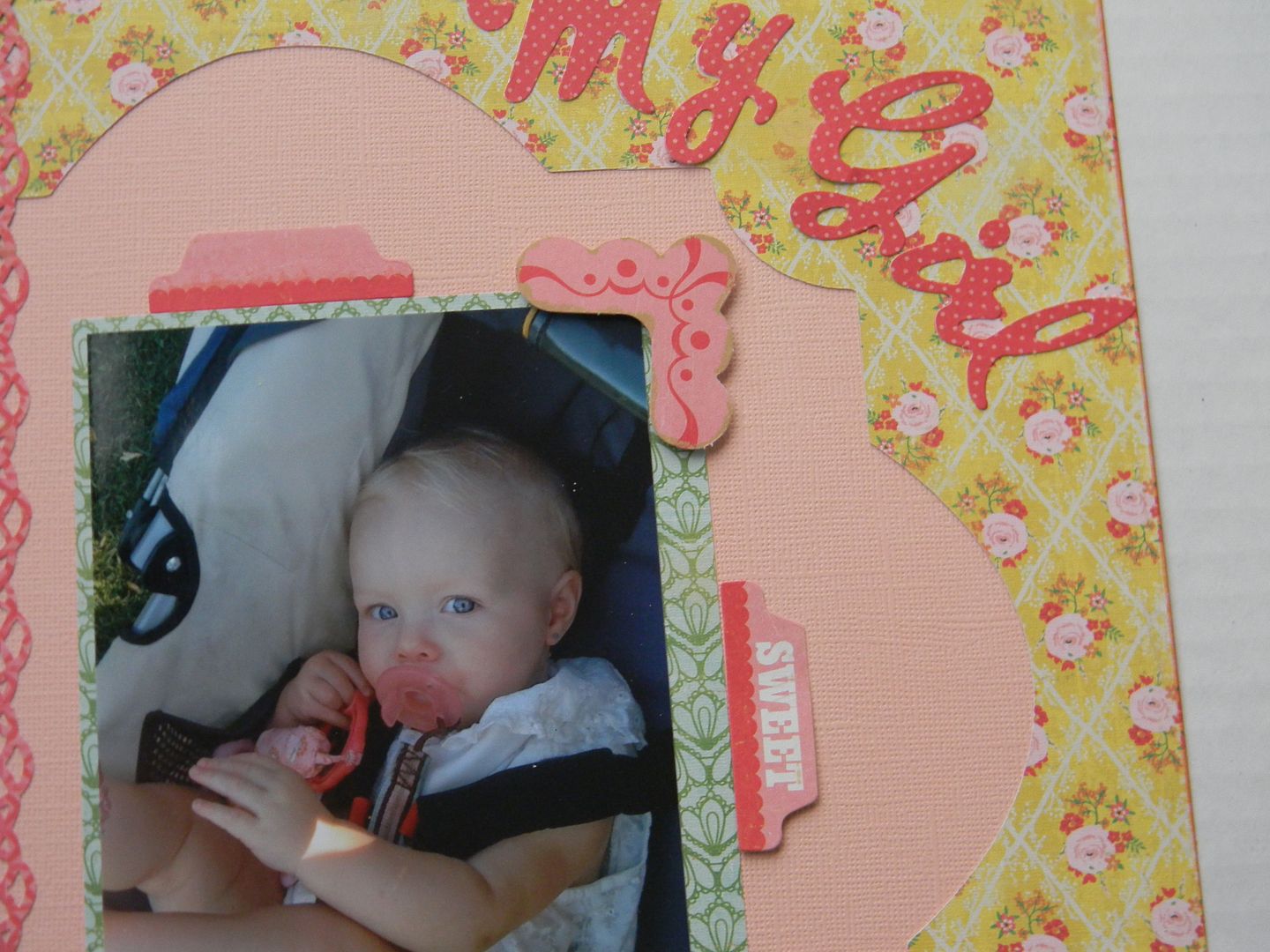 Hope you enjoyed this tutorial. Please come back each day to see what all the Design Team at Sweet Sassy Diva creates for the challenge. Happy Craftin!