Perfect Pair indeed! I was inspired by the royal wedding.
I used the Cricut Expression 2 Anniversary Edition to create this card.
I used the princess on page 51 and prince on page 52 of Cricut Decals which is one of the four preinstalled cartridges.
I printed the images by using the gel pens and holders by
You can get your Chomas Creations Gel Pen Holders from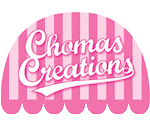 You can order them from them direct. Plus, they are made in the USA!
Now, you could use your copics, Promarkers, stampin up markers or the medium of your choice to color them in. I was going for an understated elegance.
I used some printed ribbon with "perfect pair". I gave her a mini rose for her wedding bouquet.
This would make a cute wedding card. I can also see a Cinderella type sentiment on the inside as well.
Be sure to enter the SweetSassyDiva design team call!
Click here
for more information!
Posted from my iPhone