This week at Sweet Sassy Diva we were asked to create Christmas Card with a
tutorial.
Before I start I want to explain that I do not have my boxes of Christmas
crafting supplies all in the house yet. Last year I packed them up to give
me more room and I need my hubs to get them down from the attic. This
gives me more room during the year. So luckily I had some scraps and a few
goodies but will have to add stamped sentiments labeI have made several
Christmas cards using Ornamental Iron and love the look. This time I
decided to make stain glass effect using Alcohol Inks.
I start out with glossy paper. If you can't find it at the craft store you
can buy packs of glossy card paper at the office stationary stores. Do not
use photo paper.
I don't know why just know I have read that several times.
I then choose a color scheme. You drip the inks on the pad and add alcohol
blending solution and then stamp away.
This is what the first two came out looking like.
The cuts are from Ornamental Iron page 30 gate 10a cut at 5.75
and the window on the same page cut at 5. 75.
I then decided to make a blue one. I wanted to show you can use different
cuts. From the first one I decided to cut both shapes so that I would not
waste ink on parts I did not need.
I highly recommend doing this.
This shape is cut from Winter Lace and is the second snowflake and shadow cut at
4.75 inches.
Sorry I forgot to take a picture of the blue paper inked but you can see it
through the holes.
I used Sailboat blue and Pearl alcohol inks.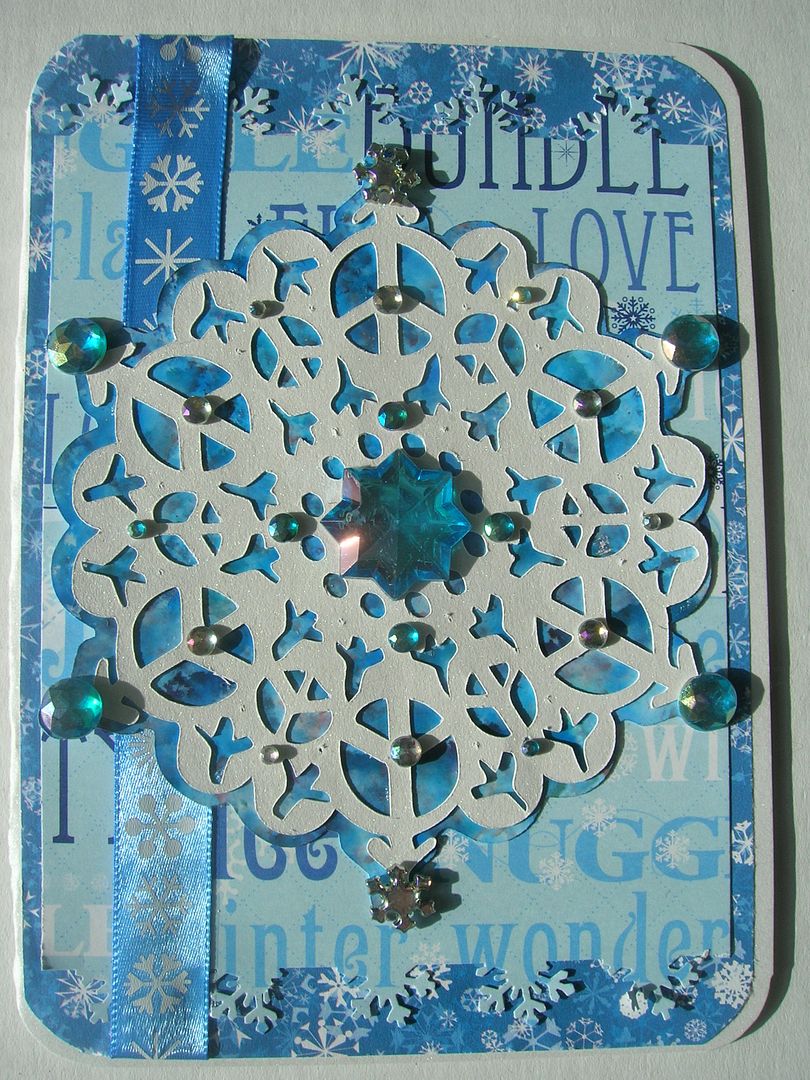 Then it is time to decorate and make your cards.
For the first one I did my usual and punched out a pile of branches using my MS
branch punch and a wreath shape. I use a lot of different green color
scraps to give the wreath more dimension. Start gluing around the circle
varying the colors and add and add to make dimension and cover the base.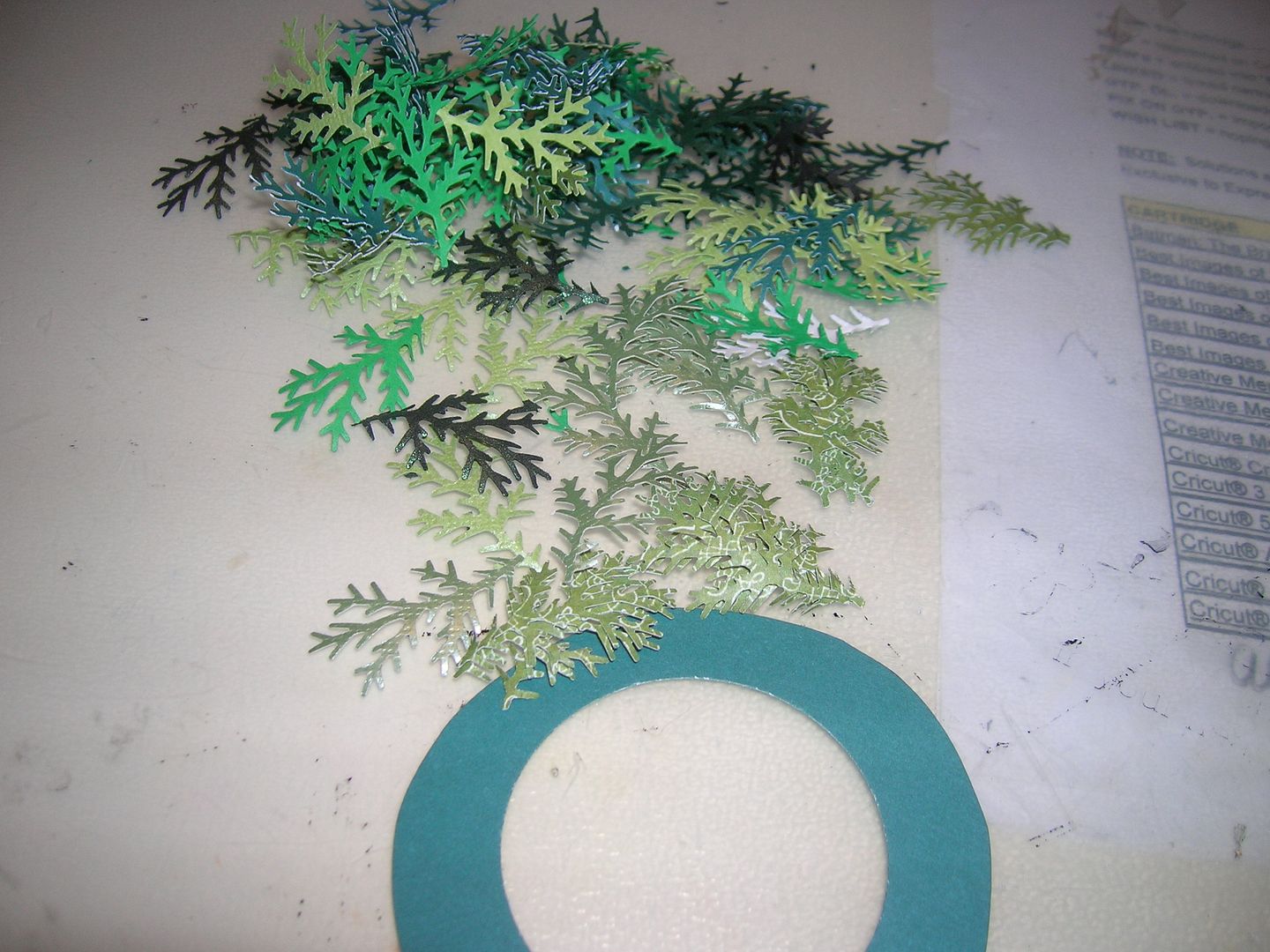 This is the finished card. All the cards are 5 x 7. This one
the colors were darker so I used brighter papers and ribbon. I then added
bling and punched the one side and rounded all the corners with my chomper.
I also added a garland at the top with more branch punches.
Alcohol Inks used- Meadow, Stream, Twilight Purple and Watermelon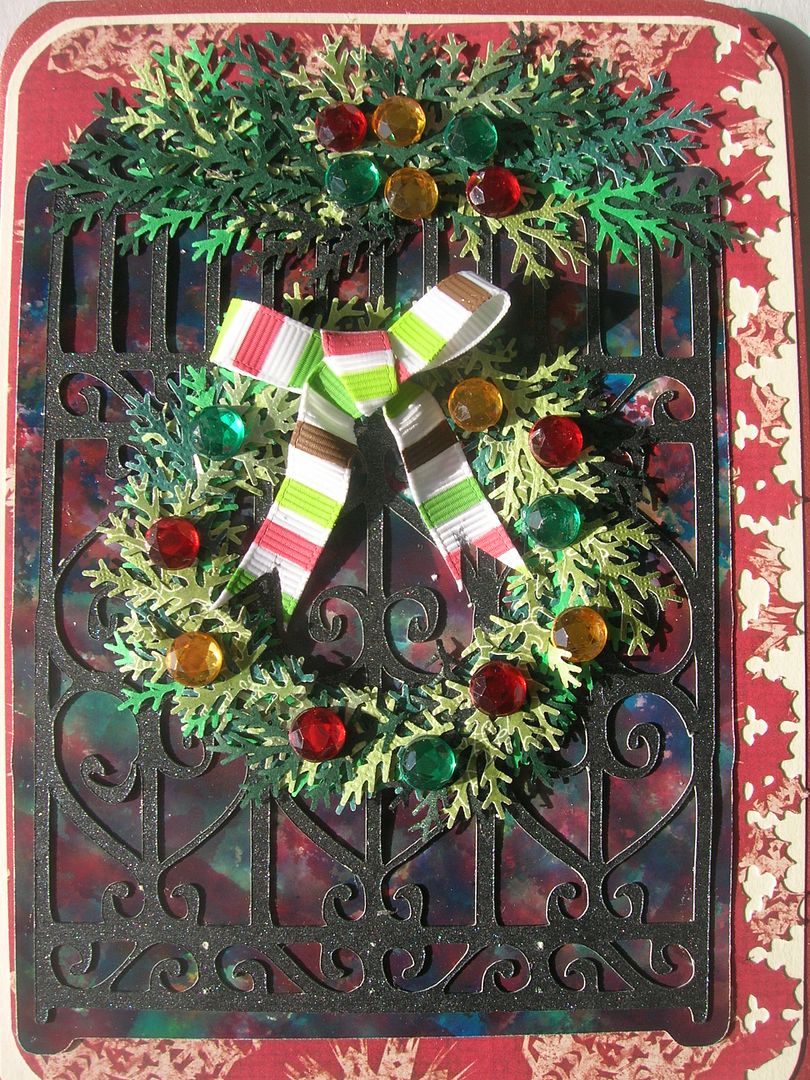 The next card I used Watermelon and this time Citrus alcohol inks to brighten
the background.
I added a Recollection Pointsettia and leaves to match the paper.
Now if you don't want to use Alcohol Inks here are two others I have made using
the same idea but with a background of scrapbook paper. You can
click on the links to get the exact directions.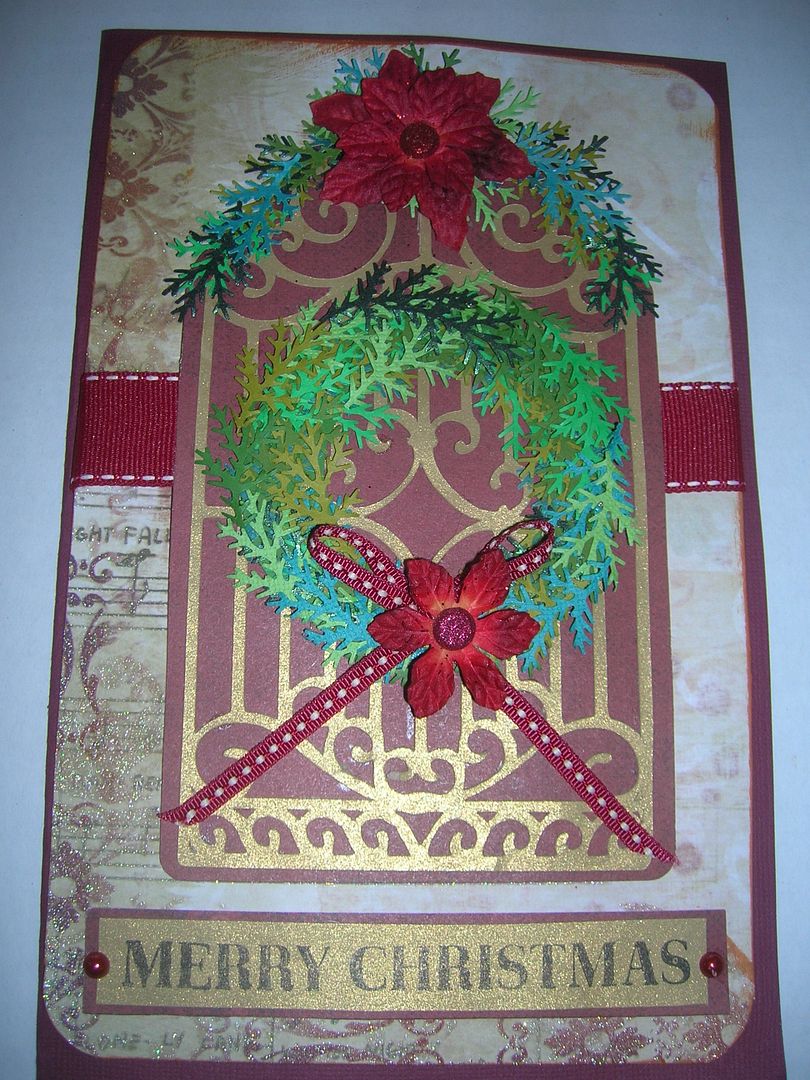 Thanks for joining me today and please come back all week to see the card
designs the DT comes up with . I know I can't wait to see them too.
I would love to read your comments too.