Welcome to the Thanksgiving Blog Hop!!
We're so happy you could join us for this super-fun hop showcasing cards, layouts and projects that feature everything to be thankful for!! You'll find an array of ideas throughout the hop -- From decorations to gift ideas and more, we hope you'll enjoy each and every project along the way!!
If you've just popped in to visit my blog or are reading this via email and you'd like to join our Thanksgiving FUN, then please
CLICK HERE
to start at the beginning with
Lynda's blog
because... It's always FUN to start at the start!! :) This is a TWO-DAY hop, so be sure to catch both days for maximum ideas (you'll find the entire line-up below my post)!!
I thought about what would be an ideal Thanksgiving project. The more I thought about what I am thankful for and what the holiday is all about, it came down to doing something with and for my family. So, I decided that a favor would be an ideal project to make and what better than to make it with my family.
My darling son has been wanting to make cake pops and keeps on me about making some more. I decided to try out a new recipe and after mentioning it on facebook this week, I was encouraged to share the recipe.
For the hop today, I've created some yummy cake pop favors .......
cute Pumpkin cake pop favors!
I took a package of the
spiced chai tea
and added some spice to my cake mixture.
You just open up the package of the spiced chai package (do not make it as tea), add it to a box of cake mix with a can of pureed pumpkin and 3 large eggs. Mix the ingredients using a hand mixer on medium for 2 minutes. Then, bake your cake according to the boxed cake.
My darling son liked it as is but, I also enjoyed it with chopped walnuts and raisins.
I dipped them in tinted white chocolate and used a pretzel stick for the top. The bottom is a white cake pop stick that you can find in the cake decorating section.
Now, I was going to package them and put a cute tag on them but, I have to say that my family was eating them about as fast as I was making them. To say they were a hit, is an understatement. :)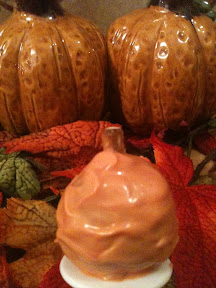 How precious would these look on your Thanksgiving table! wow!
If you would like to purchase the chai tea product or any other chocolate items, please
email me
. You can see the products by
Clicking here!
For blog candy, I am offering up one envelope of the spiced chai tea to one lucky blog follower who posts a comment on this post. If you are not already a blog follower, I hope that you will decide to become one today.
We are also showcasing projects all this week at
http://sweetsassydiva.com/
showcasing "what I am thankful for..." Be sure to check them out all this week as the SweetSassyDiva Designers have been making some beautiful projects.
Thank you again for checking out my project... Remember to visit all the stops for more chances to WIN (simply follow the sneak peek links below)!!