Ah!!! Caribbean!
Our first Caribbean island! So beautiful and amazing crystal blue water!! Temperatures of 80's and sunny!
Yummy fajitas and....
We enjoyed some margaritas and Tequila shots! Especially Cricut! Darling husband was trying to wrestle Cricut from the Margarita. Those umbrella drinks are hard to resist!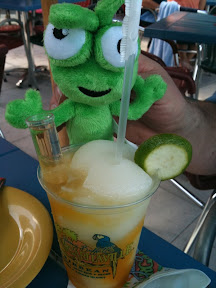 Jimmy Buffet's Margaritaville had great drinks, food and pool with bar.
They also had huge drink glasses that we ordered too! We loved the umbrella drinks and I had a number to drink for all of you! :)
We really loved this beach! I think a week here would rock!! Ok not so many restaurants or shops but, perfect weather and so beautiful!
We took more pictures to share. These are some highlights though.
They also have their own postage stamps which we picked up to mail some post cards. Plus, some additional for our scrapbook and kids.
They do all take American dollars in the Caribbean and never fear mastercard and Visa had a blast! Lol
They have some amazing jewelry but, I don't know about the "bargains" talked about for the Caribbean. Everything that I looked at was a lot of money. Like a gorgeous diamond necklace encrusted with so many dripping diamonds with beautiful dangling earrings for a bargain price of $10k! I'm not a jeweler so, I cannot say what the true retail value was on that ensemble. I can say it was truly breathtaking. as long as it is a cruise approved store, they guarantee the sale.
The best souvenirs are the memories, pictures and of course all the sand in the swimsuit along with some precious sea shells.
The thing with the cruise is that there is not a lot of island time and a lot of the ports are reached quite early in the morning. It is also hard to say goodbye. ESP with snow and cold temperatures back home.
After we boarded the ship, Kristy from Provocraft led the group with a project using the new Cricut Imagine Pirate cartridge.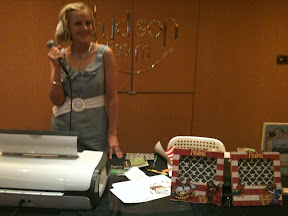 We had some choices to pick two images and the treasure chest and other pre-cut images were included.
We really liked the boat and it sure had a lot of layered pieces. The good thing with the imagine is that you could print it flat in one pieces as well. Layer a lot or none at all. It's all up to you.
Here is one a cruise mate made and added cork to appear as sand. All it needs is a few waves cuts for water!
And of course Cricut arrived wearing some pirate items.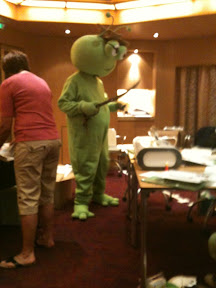 Here are Cindy and Kristy leading the class.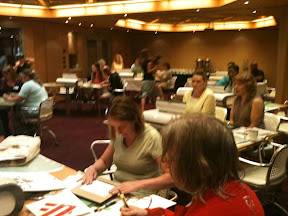 For dinner my darling husband and I went to the Pinnacle Grill. I enjoyed the surf and turf immensely.
They are renowned for their sterling beef that comes from Australia.
They have many courses and if you go away hungry, it is not for the lack of amazing food.
For the open crop in the evening and make n' take, we made a cute treasure box. We used printable vinyl.
There is so much to do and you can do it all or nothing at all.
Posted from my iPhone