Look who decided to join us on Holland America Eurodam's Cricut cruise to the Carribean! Cricut brought some wonderful Provocraft items and stamps by MPS making a bucket of fun! Of course as it is a cruise, pack your bags is a must!
Provocraft arranged some guest instructors to lead classes and make and takes. First to share her project design was Joy. Here is Kristy from Provocraft, which you may know from appearances on HSN, with Jinger.
Joy designed a two page layout titled our cruise. She lead the group creating the project with the assistance of Provocraft.
My husband joined in the fun and created his first project.
He was so proud! Just a few touches to complete.
Here is the completed layout.
This uses the cricut cartridge Pack your Bags.
Then, cricky checked the schedule and was quite hungry.
He was enjoying all the India cuisine in the flavors of the world. The Tandori chicken was the best.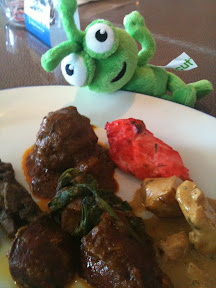 Ok.. maybe dessert!
Then , the culinary center on board had a wine tasting.
There were 2 white and 3 red wines. Plus, some snacks and water to cleanse the palate.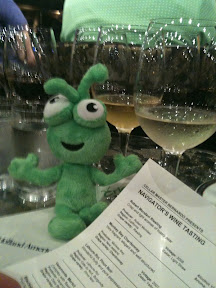 The wine chef said that he steers the ship when the captain had too much wine. We sure felt the waves from time to time!
As you can see, this was truly enjoyable! Cricket fell over after sampling all the wines and took a quick snooze.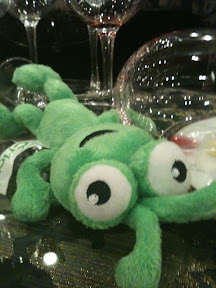 I told Cricky to wake up and hurry because it was time for Melanie's class! Too much wine for the little guy is not a good idea.
In Melanie's class, we created a recipe book using Kate's Kitchen and the Imagine.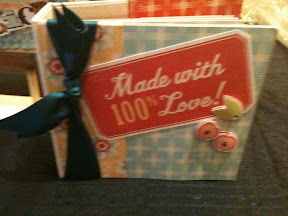 This will be great for cherished family recipes and/or cruise recipes. I am going to add the recipes that we learned from Le Cirque. In fact, we have reservations on Wednesday. The boat transforms the Pinnacle Grill which is already finer dining into the famed Le Cirque of New York.
We had a formal dinner with the group and enjoyed filet mignon with giant prawns.
In the evening, it's time for make and takes! They are planning a group shot with Cricut in the Bahamas. This frame will house the photo.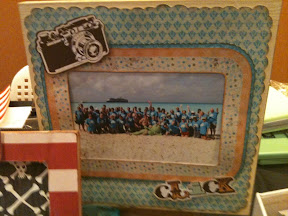 On top of the Cricut crafting schedule. There is so much more! You can do as much or as little as you choose.
I think the ladies created some great projects! I need some people from provocraft to pre-cut some kits for me too! It really helped that a lot of the items were ready for assembly. The recipe book had pre-cut imagine items and only needed the base and photo mats cut.
Greetings from the Carribean!
Posted from my iPhone
Location:Full Day at Sea!