In the morning before reaching port, we had a mystery event. We had to locate a couple cricut plushies hidden in the ship.
So we split up and searched the ship. I found him in a spot no one I'm sure would have thought! He was hiding behind the bar with the glasses and shots! :). So after having a long discussion with the bartender that seemed to take hours, we raced back to the room! On the way, I was passed up by someone in much better shape than myself. Let's just say I am not up for the amazing race! Lol. I came in a narrow second! :) I guess I better prepare for a marathon and get in better shape!
It seems that those 30 lbs that I lost just didn't help so much for a sprint! Lol. I have the 7 yr old to sprint after the toddler at home. Anyway, I was able to pick from cartridges and a number of other items which I already seem to have ...ok yes, I am a cartridge addict! Haha.
Can you believe that I don't own a cuttlebug? Yes, it's true! Lol. Robyn and the other ladies could not believe it. I've even used the rolling pin method before. I bought the sizzix but, confession time.... I haven't used it! Oh correction, I have the Provocraft red sizzix. Sadly, it didn't work with my folders or the bigger dies I purchased. I used it once with a cloud die approximately 7 years ago. It was used to make my darling son's birth announcements! Way cute! So, now I can say that I own a cuttlebug and the best part is that I won it by finding one of those little plushies.
Also, I knew when I got home my darling son would want him but, of course who could deny my darling daughter's sweet eyes. I'm so glad that we can share them among the 3 of us.
So, now you're thinking well will she take that one out of the box!? Yep! On top of it, it's the newest version that I saw at cha in July on Chicago! The handle slips into the base when not in use and suctions on to the tabletop when using it.
Here is my son using it.
He was going to town embossing everything!
I think he wants to start a blog too! Watch out Tim Holtz because I think he's a rising star! Of course I'm not a biased mother! Lol
So back to the cruise! We played some bingo for prizes.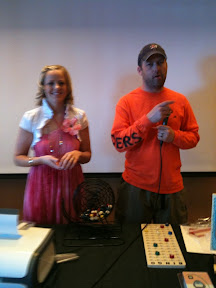 They created a new one though as it was binco! Lol a quick faux pas on the g to c. They got a bit Cricut crazed and had it on the mind calling out c instead of g. :) it sure was easy enough to do on the cruise.
Even Cricut showed up to try to win some prizes!
He chirped and rushed for the prizes!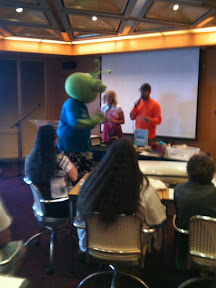 I guess Cricut will have to wait for some prizes.
After all the prizes were won, we followed Cricut to the bow of the ship. I think Kristy is crafting a lot because she was pronouncing it like we were going to tie a bow on the ship. Heck sounded good to me ESP as I can't tell you the ship lingo either. I sure love ribbon and those bows can get challenging to tie. Although with those fingers on Cricut, it might get interesting if he taught a class on bow tying.
Here is Cricut at the ship bow pointing to land!
I think he thought he discovered a new country. I am not about to tell him it's not Cricutland and was discovered a long time ago.
It was so windy that Cricut needed the help of some friends.
His delicates were almost showing but, thankfully he got his clothes adjusted before the mystery was solved on whether cricut is a he or a she! Can you imagine the paparazzi picking up on that and Hugh Heffner or whomever publishes that other magazine calling about doing a centerfold?! Phew!
We posed with Cricut and after that we had a group shot posing with the Cricut cruise group. Unfortunately, it cost $25 for it as the professional ship photographer took the picture. I was a bit concerned to post it here but, considering it has been posted elsewhere on the web, here goes...
It was so unbelievably windy but, something not to miss.
We arrived at Puerto Rico to enjoy the day!
I loved seeing the bounty ship against our modern cruise ship.
This so works with the buccaneer cricut cartridge! Yes, I know I scrap too much!
We enjoyed the island and found some nice rocks that darling husband bought for me.
One thing with this island is that you do not need to buy drinks! We stopped at the visitors center and they give these huge what they call samples of rum! Truthfully, they were the size of a regular club drink! Then, right next door there is Casa DonQ giving smaller samples. If that isn't enough, you can do a pub crawl if you will not at the pub but, through old San Juan shops! In fact, we got huge glasses of rum on the rocks at the jewelry stores! I don't think it had anything else in that glass because it was might strong. Ok I admit that it sure quenched our thirst too! Something about temps in the 80's and a cool drink on the rocks.
The best for reasonable shopping was the street vendors in my humble opinion. We had a custom leather bracelet made for our son. I'd show you a picture of it but, I think he took it to school. He absolutely loves it. I think most he loves that we are home and the post cards that are still arriving for him and his sister. She is so cute carrying around her post cards from us.
I have more to post about the cruise and will be sharing more another time. For now it's unusually warm here and I'm trying to enjoy some fresh air,
Click here for more!
Happy crafting!
Posted from my iPhone