Welcome to the What it means to love you Blog hop! If you arrived here first, be sure to start at the beginning by Clicking here! If you arrived from lifesgr8whnbugged, then you are in the right place! Welcome!
What it means to love you? Well, for my darling husband and myself, it is that we married our BFF. He also, scrapped with me on the Cricut Cruise that I earned and celebrated our 10 year wedding anniversary. I tell you that sure says love to scrap with your wife! Ok he isn't looking to take it up anytime soon and did decline taking on a post weekly or even monthly. We enjoy spending time together and really are inseparable! He sure does lend a hand and when I ask him what he thinks about something or to pick an option, he is right there! Love is holding on to each other and remembering the good times while working through the tough times.
Our son helped to make a card for the hop and is really enjoying the cuddlebug. I am sure that our daughter will help when she's older.
Here is the card that we made about the 10 things I love about you!
We used the Cricut Imagine Best Friends Cartridge and selected the print and cut option. We layered the 10 things I love about you! icon on page 15. We used the bonus content on page 29 and changed the background to the yellow print on page 41.
Here are the layers printed and cut on the mat.
We took two coordinating 80# cardstock to create a card. The pale yellow cardstock was cut to make a mat on top.
Here is my son with the cuddlebug. He sure is excited to help out and run everything though it.
It came with a flower embossing folder. He ran the yellow cardstock through the Cuttlebug.
We then, adhered all the layers and tied a cute ribbon I had in my stash that just looks like it was made for this folder.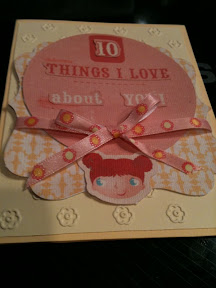 Here is the card completed! Now, for the fun part! Writing all the reasons that I love him! I think I might need to use the Yourstory and glue in some more pages! Good it is the top 10 reasons!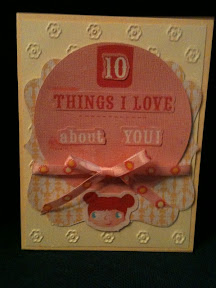 Be sure to check out the rest of the blog hop! If you get lost, here is the complete list:
Dawn
http://scrappyrn-scrappyrn.blogspot.com/
START!
Roberta
http://somethingformee.blogspot.com/
Liza
http://www.hooscrafty.blogspot.com/
Vicky
http://sassysscrapinblogin.blogspot.com/
Kymberlee
http://papermidwife.blogspot.com/
Sue
http://www.lifesgr8whnbugged.blogspot.com/
Bobbi Jo
http://sweetsassydiva-gspot.blogspot.com/
you are here!
Michelle
http://paperaffair.blogspot.com/
NEXT!
Sara
http://www.snugasabugdesigns.blogspot.com/
Misty
http://www.abusyplace.blogspot.com/
Kate
http://www.sassyandscrappykate.blogspot.com/
Liz
http://liz-lavendarandroses.blogspot.com/
Laura
http://lauras--piece--of--paradise.blogspot.com/
Michele
http://greengirlscraps.blogspot.com/
Shawn
http://shawnsfiresidecraftingroom.blogspot.com/
Mary
http://www.marebearscraps.blogspot.com/
Cindy
http://www.scrap-obsessed.blogspot.com/
Be sure to tell your special someone that you love them! Also, your kids like to hear it too!
Posted from my iPhone
Did you enter for your chances to win some great machines such as the cricut imagine, expression 2, gypsy and other great giveaways? If you didn't hear or see it,
Click here for more details!
Enter for your chance to win....an IMAGINE! PLUS other prizes!!! Just click on the picture of the Scrap'n Tote below for details to enter for a chance to win!
Just click on the picture of the Scrap'n Tote below for details on a special St. Patrick's DAY SALE!!! 20% off scrap'n tote, scrap'n easel and creative options project tote! Hurry before this offer ends!
Happy St. Patty's Day!
hurry before it ends!