We arrived at the Ft lauderdale port.
Departing on cricut cruise. It was great seeing the shore get smaller and smaller.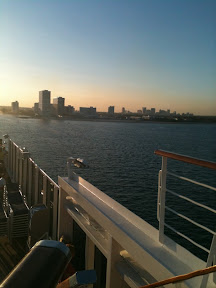 We set sail at about 5:20 pm. It was late getting started because a lot of people were late getting to the ship due to all the snow. We were held up but, made it to the hotel by about 10 am. I posted about that on Saturday. It was quite an ordeal to get to Florida.
We had some pictures of DH and myself with the port of Florida behind us. Some great memories!
We then, had a sail away cocktail party with Provocraft. They introduced themselves and was a great opportunity to meet everyone. I had met a lot of them at CHA in July before so, it was great to touch base again. Unfortunately, Jinger was unable to make it due to some commitments with HSN. Some of you may have caught her on HSN during the cruise. I had the fortune of meeting her at CHA and she is such a sweet woman. She and our darling daughter really bonded.
Jinger Adams and Katharina at CHA in July.
Kristy Day

Kristy, Melanie and Joy
 It was great meeting everyone at the cocktail party and Provocraft introduced themselves and the guest designers. We also received a gift from Provocraft of a cricut cruise shirt, green water bottle and imagine sunglasses.
After the sail away party, we went to dinner in the dining room as a group.
It was exciting going back to the room as well to see a gift at our cabin during bed turn down services. To see the gift for the first evening and day 2 events at sea,
Click here!
I will be updating more over the next days. For day 3,
Click here!
They also surprised us in class that we would be receiving the new Buccaneer Imagine cartridge when it comes out!
It was such an amazing time! It almost wasn't though
Click here to find out why!