Strawberry cake!
1 - 3 oz package strawberry gelatin (sugar free or regular)
1 cup water
3/4 cup fresh strawberries purée
2 T cornstarch or other equivalent
Fresh strawberries
Yellow sponge cake
Pour 1 cup of water into a pot on the stove.
While you are waiting for the water to boil, spray 4 small ramekins with cooking spray.
Cut some strawberries to fill the ramekins.
Purée 3/4 cup of strawberries and set aside.
After the water boils, add the gelatin and stir until it dissolves.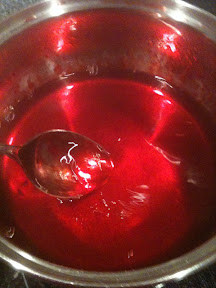 Add the thickener and strawberry purée. Continue stirring until the thickener dissolves and thickens.
Pour the liquid into the ramekins covering the strawberries.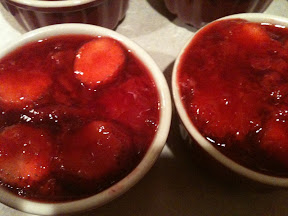 Place them into the refrigerator until they are chilled and set.
When ready to serve, take a knife blade and loosen around the inside of ramekin.
Place the ramekin in a bowl with warm water to loosen the gelatin.
Place a small cake bottom (prepped earlier by baking at home or purchase ready made) on a plate. Flip the strawberry gelatin over loosening the yummy goodness and placing on top of the cake.
Add a candle and viola! You can also add a dollop of fresh whipped cream.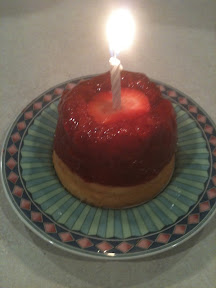 Happy Birthday to me! The best would be to get to over a thousand subscribers! Please subscribe on my blog by clicking the 'follow' button, if you have not done so already.
Posted from my iPhone
Enter for your chance to win....an IMAGINE! PLUS other prizes!!! Just click on the picture of the Scrap'n Tote below for details to enter for a chance to win!
Just click on the picture of the Scrap'n Tote below for details on a special St. Patrick's DAY SALE!!! 20% off scrap'n tote, scrap'n easel and creative options project tote! Hurry before this offer ends! This is for sure the lowest price on the Scrap'n Easel! wow!
Happy St. Patty's Day!
hurry before it ends!
Did you enter for your chances to win some great machines such as the cricut imagine, expression 2, gypsy and other great giveaways? If you didn't hear or see it,
Click here for more details!