So... Getting ready to set sail!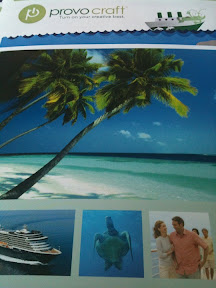 I was a fortunate winner or rather earned this trip for a 7 day cruise of the caribbean! It's great that it just so happens to be coinciding with our 10 year wedding anniversary! :). We haven't had a real vacation in over 8 years and that was an anniversary trip to London and some surrounding points of interest.
We will be traveling with Provocraft in the Eastern Caribbean.
They will be visiting grand turk, Turks & Caicos, San Juan, puerto Rico, St. Thomas, and the Bahamas.
The hello Thursday ladies will be doing classes on the days we are at sea. It seems that most of the classes are with the Cricut Imagine but, there is also a class with the Cricut Expression. Oh and I guess those scared of the Gypsy will also have one class using it to cut vinyl. I wonder how that will work with those not owning a Gypsy. Hopefully, they will have some on loan during the class.
This is the same cruise that last year the winners received the coveted golden Cricut.
I hear that Provocraft is planning some awesome surprises and this is supposed to be even better than last year if that is even possible.
This year, they opened the cruise up to everyone that wanted to upgrade to the $300 per person fee to crop with Provocraft.
Can you believe that I got my husband to agree to crop with me? :) I think that calls for some pics and a video or two!